Forest Town bodies house couple 'vanished'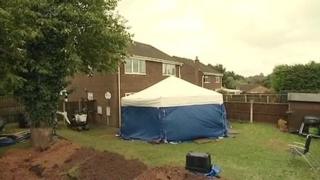 A couple who lived at a house where two bodies were found seem to have vanished without trace, police have said.
The property in Blenheim Close, Forest Town, in Nottinghamshire, was searched on 10 October after a tip-off.
The remains were found buried in the garden and appear to have been there for some time.
Residents William and Patricia Wycherley were last seen by neighbours in 1998 and police said there are no records of them since.
The couple, who would now be 100 and 79 years old respectively, moved into the property in 1987, detectives said, and were described by nearby residents as private and quiet.
Family contacted
Det Ch Insp Rob Griffin said: "Neither William nor Patricia were ever reported missing and we can find no evidence of either of them being alive or dead.
"The discovery in their former garden last week may be the reason why.
"We have yet to formally identify the remains, and so cannot say with 100% certainty who we have found, but it's not a great leap to imagine it might be the Wycherleys."
Police confirmed they were led to the house by information about an incident in the late 1990s but have released no more details.
They have also made contact with members of the missing couple's family.
Forensic enquires continue at the rear of the property.
A Home Office post-mortem examination took place on Friday and the results are being studied.