English Defence League's (EDL) Guramit Singh Kalirai caught after fleeing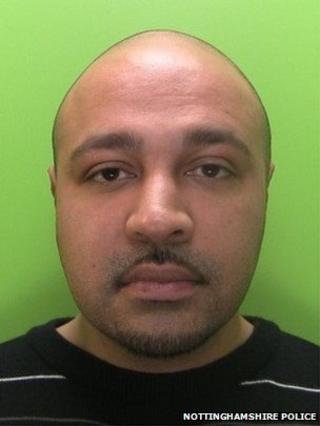 A once-prominent member of the English Defence League (EDL) who failed to turn up to his trial for attempted robbery has been captured.
The trial heard that Guramit Singh Kalirai and two accomplices pinned a shop assistant to the ground and made threats to slash his throat.
Kalirai was found guilty and sentenced in his absence to six and a half years at Nottingham Crown Court.
He is now in custody after being arrested by police.
Kalirai, who previously had a role as a spokesman for the EDL, is now due to appear at Nottingham Crown Court on 18 October.
He was previously given a prison sentence of six and a half years on 24 September.
Det Insp Rich Monk, of Nottinghamshire Police, said it was fortunate that no-one was seriously injured in the attempted robbery.
"The quick thinking and brave assistance provided by staff at nearby business premises resulted in the robbery being thwarted and an offender being arrested at the scene," he said.
Kalirai, 31, of Ullswater Crescent, Bramcote, was arrested by officers in Long Eaton on Sunday.
The attempted robbery happened on 2 May at Simply Hydro, in Wigwam Lane, Hucknall.
Workers at a neighbouring business who heard shouts called the police.
They also found one of the robbers hiding in a wall partition, and stopped him escaping before police arrived.
Andrew Wheelhouse, 31, and David Mura, 26, were also jailed for the attempted robbery.
Wheelhouse, of Alfreton, Derbyshire, was sentenced to five-and-a-half years in prison and Mura, of Stapleford, Nottinghamshire, was jailed for three years and three months.