UK wife 'desperate' after American husband denied visa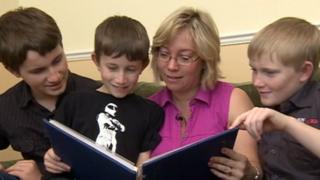 A Nottingham woman says she is becoming "desperate" after being forced to live apart from her husband for three months because he has been denied a visa.
American Herb Reagan, 47, married his wife Gill in 1993 and lived in the UK for 10 years before they moved to South Africa where he worked as a missionary.
His family returned to the UK in July but he was detained at Heathrow and sent back to Cape Town by officials.
The UK Border Agency said it will not comment on individual cases.
'Emotional rollercoaster'
Mr Reagan, who is now living in the US state of Georgia, said he was told by British officials in South Africa that he could travel to the UK on a six-month visitor visa and apply for a settlement visa while in the country.
But he was detained at Heathrow Airport and eventually sent back to Cape Town without his family.
His wife Gill said they did not realise that the terms of his original "indefinite leave to remain" in the UK meant that he would need to reapply for a visa if he left the country for more than two years.
"My wife has been put in the unenviable position of being a single parent, doing her best to set up a new house and raise our three sons without my direct input," Mr Reagan said.
His wife, Gill, said: "It has been a rollercoaster emotionally - for both of us - well, for all of us really.
"We keep being positive and hopeful but sometimes it just feels desperate.
"Each time we have had the visa turned down we have just been desperate. It doesn't feel right to have a family separated like this."
Mr Reagan has appealed against the decision to refuse him a visa and his application is being considering by a tribunal.