Nottinghamshire hospital boss was paid £190,000 salary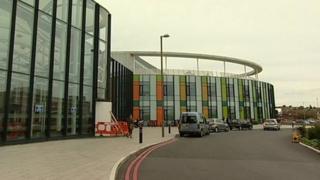 A Nottinghamshire hospital trust has defended its decision to pay a £190,000 salary to its interim chief executive for five-and-a-half months' work.
Eric Morton was appointed to the role at the Sherwood Forest Hospitals Trust in October 2012.
Hospital campaigners described the package as "obscene".
But the trust, which has faced criticism about its finances and patient care, said the salary "reflected Mr Morton's skills".
'Vast amount of money'
Francis Towndrow, who campaigns on behalf of Newark Hospital - one of two hospitals run by the trust - said the costs could not be justified.
He said: "The trust has paid out grossly inflated wages to a senior manager.
"This surely cannot be justified and is obscene at a time when an investment in medical staff... is necessary."
Mr Morton finished his eight-month tenure with the trust in June 2013. The £190,000 refers to the amount he was paid until 31 March, as detailed in the trust's annual report.
The trust, which also runs Kings Mill Hospital, in Sutton-in-Ashfield, said the full amount Mr Morton was paid would not be revealed until the publication of its next annual report.
The 2012/13 report said the trust's management costs rose from £7.8m to £9.5m. It also faces a deficit of £15.5m.
However, Conservative MP for Sherwood Mark Spencer said Mr Morton's salary was "a peanut" compared to the £2bn private finance initiative agreement the trust negotiated in 2005.
He said: "Sherwood Forest Hospital Trust was in a really bad place when Eric arrived.
"We needed somebody to come in and steady the ship. I acknowledge his salary was pretty high but not many people would take that job."
Karen Fisher, the executive director of HR at the trust, said Mr Morton had achieved "an awful lot".
She said: "The rate we paid him reflected what we would pay an interim chief executive undertaking that role.
"They don't get annual leave, they don't get sick pay and they don't get pension contributions.
"It was an individual who had the skills and experience we needed. The new chief executive is not on the same salary as the interim role. We therefore expect our management costs to decrease."