Military Cross honour for bomb blast soldier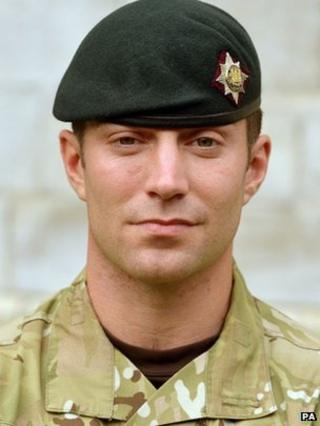 A soldier who saved a colleague after a bomb hit their armoured vehicle has been recognised for his bravery.
Corporal Oliver Bainbridge has been awarded the Military Cross for a "display of personal courage, selfless commitment and inspired leadership".
The 25-year-old, from Retford, in Nottinghamshire, said: "It's such a high honour."
He said his parents were really proud but his mother had been angry with him for doing something "dangerous".
Cpl Bainbridge, of the Royal Dragoon Guards, was the commander of an armoured Jackal vehicle which was leading a convoy in Helmand Province, Afghanistan, last November.
It was hit by an explosion, catapulting the gunner from the turret and injuring the driver.
'Doors blew off'
As soldiers began to check the area for other bombs and a medic from another vehicle came to help, the enemy opened fire with machine guns.
Cpl Bainbridge grabbed the injured man, dragging him to the crater made by the blast, while ordering others to take cover as well.
He said: "I laid on top of him to protect him, he was helpless and couldn't do anything.
"I grabbed a rifle, it wasn't mine because I had lost mine when the doors blew off the vehicle, but when I tried to fire the one I had grabbed I realised it was bent.
"We couldn't even get our heads up out of the crater, the firing was that accurate, it was really close," he said.
Cpl Bainbridge said: "It's inevitable you're going to think 'what if?' when you have these near misses, but you just have to stop yourself from doing it, because if I carried on thinking like that I wouldn't be able to go out and do my job."
Keeping mum
Despite his close call, a month later Cpl Bainbridge was blown up by a grenade as he fought insurgents in a compound, shattering his elbow and injuring his leg with shrapnel.
He admitted his frequent tangles with explosives had not gone unnoticed by his fellow soldiers.
"When I was in hospital in Camp Bastion the guys came and visited me," he said.
"Once they knew I wasn't going to die, they were shaking their heads and saying, 'we're not coming near you again'."
He added that although he had shared some of his near misses with his girlfriend, he had not told his mother about some of the more dangerous situations.
"When I first told my mum about the Military Cross she was angry.
She had said to him: "It means you've done something dangerous".
However, he added both his mum and dad were now very proud.
The Military Cross is awarded to all ranks of the Royal Navy, Royal Marines, Army and Royal Air Force in recognition of exemplary gallantry during active operations against the enemy on land.