Nottingham statue plans to Alan Sillitoe scaled back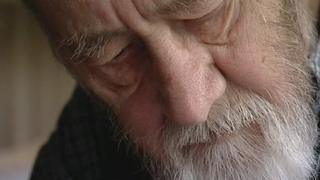 Plans for a memorial in Nottingham to late author Alan Sillitoe have been scaled down because of difficulties in raising the money.
A life-size statue of the Saturday Night and Sunday Morning writer was proposed in October 2010 and would have cost about £80,000.
David Sillitoe, the novelist's son, said however, the expense has left the project unfeasible.
Mr Sillitoe said a bust of his father had been planned instead.
'Measure expectations'
The Alan Sillitoe Statue Fund was set up following the death of the writer in April 2010.
Sillitoe, who also penned The Loneliness of the Long Distance Runner, was born in the Lenton Abbey area of Nottingham, in 1928.
The memorial was originally planned for his birthplace, but Old Market Square in the city centre later became its preferred location.
David Sillitoe, who is on the committee, said: "We wanted to raise enough money to make a permanent memorial in Nottingham to Alan, [and] the obvious thing was a statue.
"[But] we had to measure our and other people's expectations and it's proven very hard to get that kind of money.
"The more we thought about it the less feasible the statue project was proving to be and that's why we moved sideways to the bust on a plinth."
The group are still short of the money required, and a location for the bust has yet to be decided, he added.
During the last three years an undisclosed amount of money has been collected through special events celebrating Sillitoe's life and work.
Arctic Monkeys
Money through other sources has also been sought, and according to the fund the city council has pledged to support the tribute at the right time.
However, Mr Sillitoe said he was disappointed the Arctic Monkeys, who are fans of his father's work, had not contributed.
The band used a line uttered by anti-hero Arthur Seaton in the 1958 novel Saturday Night and Sunday Morning, for the title of their debut album - Whatever People Say I Am, That's What I'm Not.
Mr Sillitoe said: "The Arctic Monkeys haven't been any help and of course they took, for the title of that album, one of Alan's immortal lines, so we'd like to hear from them.
"[Alan Sillitoe] was acknowledged as an influence and I'm not necessarily saying there's a quid pro quo (this for that), but we contacted the management and in the great tradition of rock and roll their offer of help was to send us a CD, which never arrived."
The band's management said it was unaware the CD had not arrived and invited Mr Sillitoe to get in touch about his campaign.
Nottingham's last high-profile statue was for the late Brian Clough, which was unveiled in the Old Market Square, in 2008, after £70,000 was raised by volunteers within 18 months.
"They worked really hard to get the money," said Mr Sillitoe. "It was a great piece of fundraising.
"We're doing our best and we're grateful for anything. We're not asking for a lot [but] we need a leg up."