Newark Hospital minor injuries unit to be 'enhanced'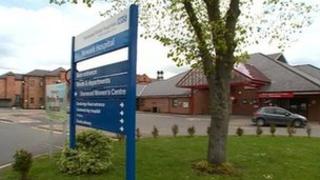 The trust which runs Newark Hospital intends to "enhance" the unit where its patients are treated for minor injuries.
The minor injuries unit (MIU) was previously an A&E department until it was downgraded in 2011.
Campaigners heavily criticised Sherwood Forest Hospitals NHS Foundation Trust for doing so.
Enhancing the MIU is among several proposals for Newark Hospital which will be considered by health officials.
The enhancements include providing an out-of-hours GP service within the MIU.
The proposals are partly in response to criticism in a report which was part of the national Keogh Mortality Review.
Paul O'Connor, the trust's chief executive, said: "The Keogh report asked us to make clear a vision and a strategic direction, and we've done that today."
The Vision and Strategic Direction for Newark Hospital will now be considered by officials.
A final decision is expected to be made when the trust's board meets on 29 October.
GPs 'more involved'
Mr O'Connor said the proposals would mean "more local services for Newark residents at Newark Hospital", including the GP coverage.
"It's about extending the hours of coverage into bank holidays, weekends and later in the evening, for GPs to be far more involved in the running of a really successful hospital at Newark," Mr O'Connor said.
Patients who need more intensive emergency care would continue to be transferred to surrounding hospitals.
Mr O'Connor said: "Newark is a very, very good small community hospital that we need to absolutely pack with services that are needed by Newark people, but generally speaking, busy A&E departments in major hospitals have enormous infrastructures behind them.
"They are considerably different from the sort of hospital that Newark Hospital is."
Patients needing "complex" operations are also likely to be sent elsewhere.
The hospital's Fernwood Community Unit, which provides rehabilitation and recuperation services for "frail, elderly people", could also be extended.