English Defence League's (EDL) Guramit Singh Kalirai flees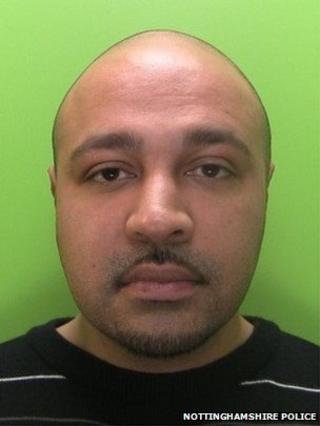 A once-prominent member of the English Defence League (EDL) is on the run from police after being found guilty of a violent attempted robbery.
Guramit Singh Kalirai was sentenced to six-and-a-half years after a shop keeper was tied up and threatened with a knife in Hucknall, Nottinghamshire .
Andrew Wheelhouse, 31, and David Mura, 26, were both also jailed for the attempted robbery in May.
EDL leader Tommy Robinson said Kalirai was no longer involved with the EDL.
'Fight the conviction'
Kalirai, 31, of Bramcote, Nottinghamshire, failed to turn up at Nottingham Crown Court on Tuesday.
He previously had a role as a spokesman for the EDL.
Mr Robinson said Kalirai had been in touch with him while on the run to say he had not done anything wrong.
"He said he is working with his legal team to fight the conviction," Mr Robinson said.
"It doesn't seem like something he would have done."
Wheelhouse, of Alfreton, Derbyshire, was sentenced to five-and-a-half years in prison and Mura, of Stapleford, Nottinghamshire, was jailed for three years and three months.
A warrant has been issued for Kalirai's arrest.