Kings Mill Hospital criticised again for care standards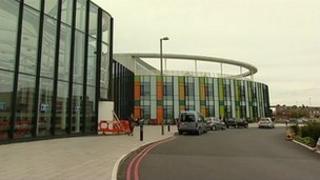 A Nottinghamshire hospital criticised in the Keogh review has come under fire again for its standards of care.
Sherwood Forest Hospitals Trust has been told to improve its services at Kings Mill Hospital, in Sutton-in-Ashfield.
The Care Quality Commission (CQC) carried out a surprise inspection and found five of the eight standards of quality and safety were not being met.
The Trust said it was confident it would address all the issues.
'Real concern'
The CQC visited the Trust in June and July following the Keogh review which was carried out in light of the Stafford Hospital scandal.
The review criticised the Trust for staffing levels; too many untrained nurses relative to the number of trained nurses; poor attention paid to oral hygiene and patient dissatisfaction. It was one of 11 placed in special measures.
The CQC raised its concerns in a report which said it found:
Examples of the trust not having effective systems in place to check the quality of its own service and manage risks.
Infection control guidance documents had gone past the date they should have been reviewed.
The equipment checklist had not been completed for four days on one ward which indicated that it had not been checked.
Complaints were not always being dealt with in line with the Trust's own policy.
CQC's regional director, Andrea Gordon, said: "The failings we found at Kings Mill Hospital are a real concern.
"CQC has been working to ensure the safety and wellbeing of people receiving this service and we have told the service changes need to be made."
In response, Paul O'Connor, chief executive of the Trust said it was already working to make improvements by the time of the Keogh review.
"We are confident measures have been put in place to address all findings from these reports and recognise the need to give additional attention to bring further improvements for our patients," he added.
He said measures included making the director of nursing and quality now clinical lead for complaints and clearing the complaints backlog; introducing rounds to ensure regular patient checks are carried out and a recruitment drive for more medical staff.
Last year the hospital had to review its breast cancer treatment after an error with test results for 120 women.
The CQC said it would carry out a follow-up inspection "in the near future".