Lindsey Inger death: Teenager 'did not react' to horn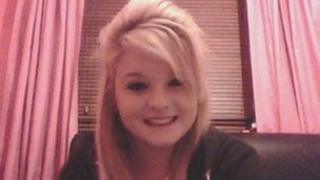 A teenager who died after being struck by a tram in Nottinghamshire "did not react" to a warning horn, an investigation has found.
Lindsey Inger, 13, was seriously injured at the Moor Bridge crossing in Bestwood in November and died later.
The Rail Accident Investigation Branch (RAIB) report said she may have thought the horn came from a parallel train track or a nearby road.
It suggested that in future, tram horns should be repeatedly sounded.
Investigators found the tram had its headlights on full beam and sounded its horn almost continuously from when the driver spotted Lindsay and the friends she was with.
The report said the teenager had been unfamiliar with the crossing and had stepped out too late for the tram's brakes to stop it in time.
It said Lindsey "appeared to be unaware of the tram's approach" and "may have been distracted", though she had not been using a phone or headphones.
Inhibited vision
Records show the tram was travelling at 43mph (70 km/h), well under the limit for the area.
Investigators said that along with confusion over the horn, a bright light, installed after a double fatal accident at the crossing in 2008, may have "inhibited" Lindsay's vision.
The report also recommended that all crossings are clearly marked in future.
A spokesman for operators Nottingham Trams Limited said the company welcomed the report.
"It is apparent that the RAIB has been unable to establish the exact cause of this tragic incident.
He said that an inquest into Lindsey's death, which was opened and adjourned in December, would hopefully answer "any outstanding questions" when it resumed.
He added that "this continues to be a distressing time for Lindsey's family and our thoughts go out to them".
A new footbridge at the site, which the teenager's family campaigned for, is due to open in October.