Westgate Kenya mall attack: Family fly out to victim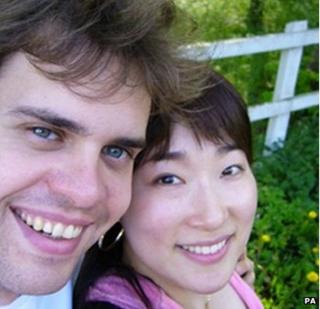 The families of a Nottinghamshire man and his wife say they are "devastated" after she was killed and he was badly injured in the Nairobi mall massacre.
Niall Saville, 35, from Farndon near Newark, was shot in the chest and shoulder in the Westgate shopping complex on Saturday.
His South Korean wife Moon Hee Kang, 38, was also shot and suffered grenade wounds. She died in hospital on Sunday.
The Saville family have flown out to be by his side at the Aga Khan Hospital.
'Greatly missed'
In a statement released through the Foreign Office, they said: "The Saville and Kang families are devastated and heartbroken by the sudden loss of Moon Hee.
"She was very close to the Saville family and brought so much joy to all of their lives.
"She and Niall had lived in numerous locations around the world together, but they always had time for both families.
"Moon Hee was a bright, loving, kind and genuine person who will be greatly missed."
They said both families would focus on grieving and supporting Niall through his recovery privately.
Mr Saville, a Cambridge graduate, worked as an economic development consultant for Nairobi firm Dalberg.
Ole Kaburu, a lawyer working with him, said the couple had moved to the city about five months ago.
He said: "They were having a coffee very near the entrance when these guys just came in and started shooting.
"He was hit by two bullets and unfortunately his wife was also shot.
"Niall has had surgery. He is stable and talking, he's a very strong guy."
A spokesperson at Dalberg, said: "All of us at Dalberg are deeply shocked and saddened by the horrific attack in Nairobi.
"Our thoughts and prayers are with the victims, and with their loved ones, during this very difficult time."
At least 67 people were killed in the terror attack, which includes six Britons.
Between 12 and 15 militants stormed the Westgate centre on Saturday, throwing grenades and firing on shoppers and staff.
Eleven people have been arrested in connection with the attack.