Emma Lifsey rail death crash 'caused by dim lights'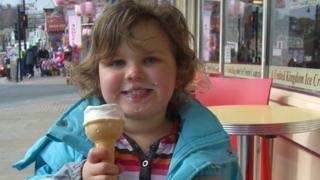 An accident at a level crossing which killed a four-year-old girl was caused by dim warning lights, a report says.
The car which Emma Lifsey was travelling in was hit by a train at Beech Hill Crossing in Nottinghamshire, on 4 December.
The Rail Accident Investigation Branch said the red warning lights, known as wig-wags, were old and could not be seen against bright sun on a wet road.
Network Rail said lights at the crossing have since been replaced.
The car was being driven by Emma's 67-year-old grandmother, who survived the collision, when it was struck by the train which was travelling at 60mph (96km/h).
Miss Lifsey, from Haxey in North Lincolnshire, died in hospital the day after the crash.
Her grandmother told the investigation she only noticed the lights and barriers when she was very close to the crossing.
The Rail Accident Investigation Branch (RAIB) report said the wig-wag units were tested in an "optical laboratory".
"It was found that they were fitted with 36W lamps and an obsolete design of red lens unit," the report said.
"Their light output was measured to be well below the specification for lights of this type.
"Network Rail had no plans in place to replace the light units with brighter ones and had no process to identify that such replacement was necessary."
RAIB inspectors recommended work to find which lights needed replacing and which were susceptible to sunlight dazzle.
A Network Rail spokesperson said: "Our thoughts remain with the family of Emma Lifsey, following this tragedy.
"We have already replaced the bulbs in the warning lights at this crossing with brighter LED lights which are easier to see in poor light conditions. We have a programme of these replacements on the route.
"We will consider the points raised in this report and see if any further work needs to be done."