Vanessa Gent faces Southwell Care Home allegations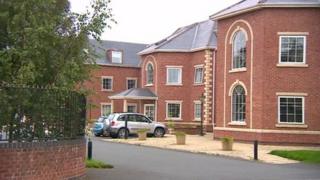 A care home manager wrote that a family should "stop being so dramatic" over the death of their relative, a fitness to practise hearing was told.
Vanessa Gent is also alleged to have said words to the effect of "Let's get rid of her" in front of a member of the same family.
The comments referred to an elderly female resident of Southwell Court Care Home, in Nottinghamshire.
Mrs Gent was sacked from the home in September 2011, the hearing was told.
She faces nine allegations in front of the Nursing and Midwifery Council (NMC) conduct and competence committee.
The hearing was told that Mrs Gent's employers discovered a note she had allegedly written referring to the family of the elderly woman, who had died in hospital.
The note, which said "Stop being so dramatic, everybody's mother dies", was written on a scrap of paper which was found in a drawer.
Relative 'banned'
Earlier Mrs Gent had been involved in disputes with the relatives about medication, staffing levels and care standards.
The hearing was told that at one time the resident's son-in-law was banned from visiting as Mrs Gent had branded him "a troublemaker".
It was also alleged Mrs Gent moved the resident's chair so her relatives were unable to see, during visits, how many staff were coming on night duty.
Rachel Ellis, case presenter for the NMC, said at one point Mrs Gent threatened to call the police if the resident's son-in-law did not leave the home.
Mrs Gent allegedly told him: "You complained about me and you are not a blood relative."
The family said Mrs Gent failed to answer a series of emails about their concerns.
The relative's son-in-law told the hearing: "If Mrs Gent had responded we could have nipped this in the bud, but she didn't."
The hearing is expected to last until Friday.