Beeston's Weir Cottages to be renovated with lottery funding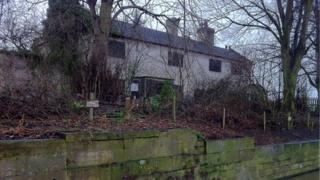 Canal workers' cottages in Nottinghamshire dating back to the 18th century are to be restored.
The Weir Cottages at Beeston Rylands have fallen into disrepair having stood vacant for more than 15 years.
The Canalside Heritage Centre, which was set up to develop the area, has now been awarded £687,000 by the Heritage Lottery Fund.
Chair of the group Stewart Craven said it was "fantastic news" that a long-neglected area would be rejuvenated.
The red brick terrace of cottages, which are on Nottingham County Council's Buildings At Risk register, were built for canal workers in 1796.
Mr Craven, a former builder, said he had been working on the project to see the cottages restored since 2009.
"The history of them is unbelievable and the whole area has just been let go. I just wanted to save the buildings really.
"We now have some very good trustees and the community support we have had has been phenomenal. It really makes all the hard work worthwhile."