Mother credits Letzgo Hunting for catching daughter's abuser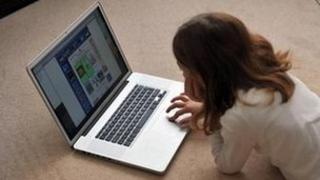 The mother of a 15-year-old girl groomed by a man online has credited amateur anti-paedophile vigilantes for helping bring the abuser to justice.
The Letzgo Hunting group has been criticised over the suicide of a separate man its members confronted.
But the mother, who sought Letzgo Hunting's help before contacting Nottinghamshire Police, said the group was "absolutely amazing".
Police said evidence collected by the group played no part in the conviction.
The mother, who cannot be identified for legal reasons, insisted she would not have known her daughter had been abused if Letzgo Hunting had not investigated first.
"I saw there was a man talking to her but the messages were quite innocent," she said,
"Having seen these guys [Letzgo Hunting] through Facebook I went to them and asked for advice."
She said the reason she contacted the group and not the police was that she was not sure at that stage if a crime had been committed.
However, because of the work Letzgo Hunting did, she says, it emerged that her 15-year-old daughter had been groomed and abused by 24-year-old James Stone.
Stone, who lives in Nottingham city centre, was sentenced to eight years in prison at Nottingham Crown Court.
The girl's mother said: "Having spoken to them [Letzgo Hunting] I gave them all the information I could on Stone to try to speak to him."
'Repeat offender'
She said Letzgo Hunting then gathered evidence that Stone had engaged in sexual activity with her daughter, which the group did by posing online as another girl.
"When they got in touch with the information they found out, I couldn't do anything for a couple of days," said the mother.
"I was totally out of it. I was being sick."
The group then arranged to meet Stone by posing as a girl, and confronted him about his offences while he was being filmed.
"It showed he was a repeat offender and was quite happy to go on," said the mother.
The mother said she did not know the best way to contact police, so Letzgo Hunting found the appropriate officer for her.
The mother said she then contacted officers, who arrested Stone, interviewed the victim, gathered more evidence, and later charged him.
The Crown Prosecution Service said: "Because James Stone pleaded guilty to sexual activity with a child at a plea and case management hearing, this case did not proceed to trial. As such, no evidence of any kind was tested in court."
Police could not say whether or not the material gathered by Letzgo Hunting would have been used as evidence, but warned about people taking the law into their own hands.
'Horrendous, horrendous ordeal'
Stone pleaded guilty in court to meeting a child following sexual grooming, two counts of sexual assault with a child, one count of sexual activity with a child, two counts of possession of indecent photographs of a child and one count of possessing an extreme pornographic image.
Six of these offences related to the 15-year-old girl.
"She went through a horrendous, horrendous ordeal," said the mother.
"This has destroyed both of us. It's never, ever going to go away.
"My daughter has never even kissed a boy before so you can imagine it was horrific and horrendous to have to do that."
Det Insp Martin Hillier, of Nottinghamshire Police, said evidence could be lost if there was a delay in reporting cases to police.
"If you suspect someone of online grooming or sexual offences, or indeed any crime, the only course of action should be to call the police immediately," he said.
He added that delays in reporting could also delay "vital medical treatment or psychological support that the victim may need".
Chief executive of the Child Exploitation and Online Protection (CEOP) Centre, Peter Davies, said he was strongly opposed to amateurs getting involved.
"Confronting people is really bad practice. It risks loss of evidence, it risks people panicking and possibly harming children as a result, possibly destroying evidence, possibly denying us the chance to investigate a whole web of activity.
"But also, and maybe not many people would care about this but its a real risk we have to anticipate, the risk of suicide of people whose activities of this nature are exposed, goes up dramatically."
The mother said her daughter is now receiving counselling.
On Thursday, Letzgo Hunting put a statement on its Facebook page that it had "suspended all hunting activity" indefinitely.
An Inside Out documentary on Letzgo Hunting will be broadcast on BBC One in the Midlands on Monday 23 September at 19:30 BST