Nottinghamshire free school bus pass scheme scrapped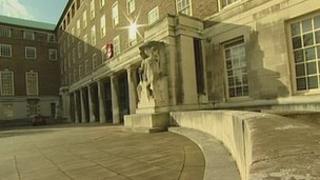 Free bus passes for children who choose to go to a school outside of their catchment area are to be scrapped.
Nottinghamshire County Council has approved plans to end the Discretionary Travel Scheme for secondary school pupils.
The Labour-led council said the scheme was "financially unsustainable".
However, some teachers said the decision would mean children might not be able to afford to attend their school of choice.
The council has claimed discontinuing the scheme, which was introduced by the previous Conservative administration, from next September could save £1.7m by 2017-18.
Pupils currently participating in the scheme will continue to be eligible until the end of their statutory education at 16-years-old, the authority said.
'Financial pressures'
The Tory opposition had previously said it was "a spiteful move" to end the scheme.
But, councillor John Peck, the council's chairman for children and young people, said the "financial pressures" put on local authorities meant savings had to be made.
"Nottinghamshire is the only local authority in the country currently running a discretionary travel scheme like this - the other 150 authorities do not operate one," Mr Peck said.
"We don't feel we can justify council tax payers continuing to subsidise a small number of families who use the service.
"I suspect that in many cases families would still send their children to the same school."
The decision follows a six-week consultation with pupils, parents, teachers, governors and other stakeholders.
In the two years since the scheme was introduced in September 2011, 863 students have used the scheme.
A further 600 students applied this term.
'Right to choose'
The number of children using the scheme equates to 5% of the secondary school population in any one year group, the council said.
Maureen Cobbett, head teacher of All Saints' Catholic School in Mansfield, said some pupils would struggle with the cost of transport.
"Many of our children who live in outlying areas won't be able to come to the school because the cost of the transport will be prohibitive," she said.
"I think in this day and age, when the government is saying it wants a wider choice of schools, that parents should have the right to choose."
One parent, Jo Fisher, who lives in Newark, said it would cost about £900 a year to send her three children to the school, if they did not receive the free transport.
Any statutory entitlement to free school transport is unaffected.