Nottinghamshire County Council: Living wage to be paid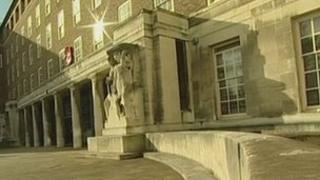 Nottinghamshire County Council will raise the salaries of more than 2,000 employees if plans to introduce a living wage policy are approved.
From 1 April 2014, 2,200 of the lowest-paid employees at the county council could start receiving £7.45 per hour, up from £6.45.
A council spokesperson said many part-time, female employees working in frontline services would benefit.
The policy will cost £1.36m to bring in and will be discussed on 18 September.
Community roles
Leader of the Labour-run authority, Alan Rhodes, said people in a range of services, including catering for older people, school cleaning and catering would benefit.
"We're talking about people who do a great job, are recognised in our community as doing a great job but who are actually paid very little for doing it," he said.
"We believe this is absolutely the decent, fair, right thing to do."
Nottinghamshire County Council needs to save £154m over the next three years but Mr Rhodes said the amount needed to raise wages equated to 0.06% of the council's wage bill.
The Living Wage is calculated according to the basic cost of living in the UK. Employers choose to pay it on a voluntary basis.