Nottinghamshire street light switch-off reversed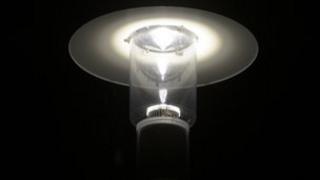 Council leaders are to reverse a decision by their predecessors to turn off many street lights during early mornings.
Nottinghamshire County Council's previous Conservative-led administration had started turning off lights between midnight and 05:30.
The Labour group, which won power in May, said it had listened to concerns about crime and road accidents.
However, the authority said the move would cost it £80,000 a year.
Since 2010, the county council has been altering more than 90,000 lights to save £1.25m a year in electricity costs.
Lights on some main roads were also dimmed between 22:00 and 07:00, and some in remote areas had been switched off entirely.
The Labour-run council said it wanted to revise these measures following concerns raised by residents.
It said it would turn lights back on where communities requested it, and save energy by converting lights to dimmable LEDs when they were due to be replaced.
The cost of returning to full-night lighting will cost the authority about £110,000 a year, with a loss of £80,000 a year in energy savings.
However, it said the project would still make £700,000 in savings by 2017,
Councillor Kevin Greaves, chairman of the county council's transport and highways committee, said: "We have listened to residents' concerns about the perceived risk of crime and personal safety in some of the areas in which the part-night programme was introduced.
"These concerns included some elderly residents who felt more vulnerable without street lighting and those residents working shifts who set off for or returned from work without lighting."
The plans are set to go to the council's policy committee on 18 September.