Sharphill Wood 'protest ramble' against new homes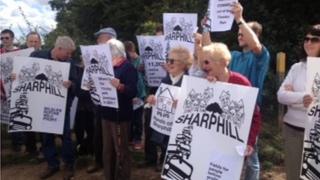 Residents have embarked on a "protest ramble" against hundreds of new homes which are being built near a popular Nottinghamshire woodland.
About 100 people with placards turned out to demonstrate against the plans for fields near Sharphill Wood, in Edwalton.
Rushcliffe Borough Council has granted permission for 1,200 houses to be built on the site.
Residents are concerned a further 550 homes could follow.
In October 2012, the planning inspectorate said Rushcliffe Borough Council's plan to build 9,600 houses by 2026 was not enough to meet the projected housing need.
The authority was asked to build about 3,500 extra homes, including some on greenbelt land.
The Conservative-led council now says 550 extra homes have to be built at Edwalton.
Protesters voiced their objection to the scheme by carrying hundreds of pictures of houses on their march.
"We want to give a very visual image of what the impact of these extra houses will be," said Sarah Deller from the Rushcliffe Residents Association, which organised the ramble.
"We believe 1,200 houses is more than enough.
"We all accept there has to be houses in West Bridgford, but just not on this beautiful piece of land."
Rushcliffe's council leader Neil Clarke said: "As a responsible council, we must make sure we propose a plan that is acceptable to planning inspectors.
"But we want to ensure the residents' interests are taken into account as much as possible."