'Pretty Windows' murder: Family seek closure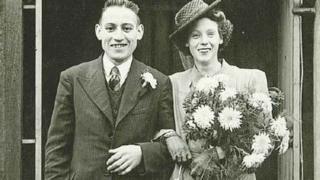 The murderer of a man killed 50 years ago outside a Nottingham pub has been urged to come forward and confess to the crime.
Landlord George Wilson was stabbed 13 times outside the Fox and Grapes in Sneinton on 8 September, 1963, in what was dubbed the "Pretty Windows" murder.
It sparked one of the biggest manhunts ever seen by the force - but no-one was ever caught.
However, a fresh appeal now aims to get justice for Mr Wilson's family.
His wife died in 1997, not knowing the reason or motive for his death.
The father-of-two was killed as he left the pub, well known for the intricate design of its windows, to take the family dog for a walk shortly after midnight.
About 20 minutes later, George's wife Betty heard the dog barking in the alley nearby.
The former miner was found lying face down with injuries to his face, neck, head and back. He died at the scene.
Nine days after the murder, two young boys playing in Polser Brook, near Holme Pierrepont, discovered a knife which they handed in to police.
A forensic examination linked the weapon to the murder.
'Robbed us of our dad'
Mr Wilson's daughter, Margaret, who was six at the time, said: "We would really like to know who did this for our own peace of mind, even if the offender is dead."
She said: "We think that quite a lot of local people will have known something about his death.
"We are also pretty sure that Blackie [the dog] would have attacked his killer, he was very protective of him.
"Our mother died without ever knowing who did this or why and we need some closure after the killer robbed us of our dad."
But despite an extensive search for the killer by Nottinghamshire Police the murder remains unsolved.
Det Con Insp Tony Heydon, said: "Over the years we have had people calling in with information in relation to George's murder, but we are still keen to hear from anyone who hasn't come forward before.
"I would also be keen to hear from anyone who was in the local licensing industry in the 60s, other landlords, or even older residents who still live in the area.
"People do change alliances, and it may be someone you knew many years ago arrived home on 8 September, 1963, acting out of character or even gave you information about what had happened.
"We remain determined to get justice for George's family," he said.