Nottingham train services affected by staff training delays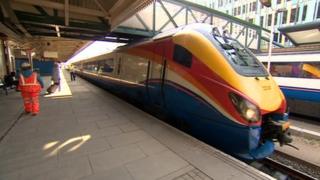 Services out of Nottingham station are still being delayed after five weeks of track and signal work.
The latest problems come as some rail staff are yet to be trained on using the new signalling system.
Services between Nottingham and Lincoln were also disrupted after a train derailed on Tuesday and delays are expected until the middle of next week.
East Midlands Trains said strike action by the RMT union meant some workers had not been given the necessary training.
'Additional training'
Pam Slater was travelling from Worksop to Nottingham when passengers were taken off and told to wait for the next service because the guard had not been given the appropriate training.
She said: "We were told that due to staffing issues we had to leave the train. The guard said that for health and safety reasons he was not prepared to carry on the journey.
"We weren't very happy about it. You would think staff training would be one of the important things they would have made sure was completed on time."
East Midlands Trains said the cancellation had been an "exception" and only three services had been affected by training issues.
A spokeswoman said 92% of drivers and conductors had been briefed on using the new signalling system but due to union members working to rule, some staff had not and were being given management support to ensure services could still operate.
She added: "No train service will run without a fully trained member of staff.
"We apologise for the inconvenience caused and would like to reassure passengers we are doing everything possible to ensure we can continue to run our full train service."
Nottingham railway station reopened on Monday after a £100m project to upgrade signals and tracks and build a new platform.
Only a small number of services continued to run during the works and replacement buses ferried passengers to nearby stations.