Fox removed to protect it from animal sculpture thieves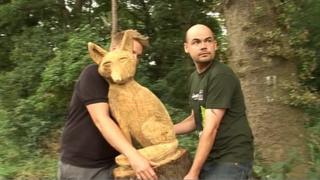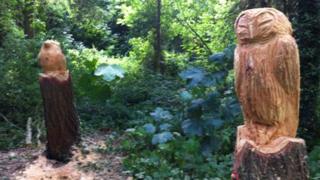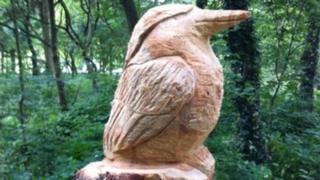 A fox sculpture has been removed from a woodland because of fears it could be targeted by thieves.
Two similar sculptures - of an owl and a kingfisher - have already been stolen from a nearby nature reserve in Nottingham.
They are thought to have been sawn off with a chainsaw, suggesting the thefts were planned.
The two sculptures had been at Breck's Plantation for less than a month.
They were created using a chainsaw as part of an open day run by Nottinghamshire Wildlife Trust on 24 July.
'Stolen as ornaments'
Erin McDaid, from the trust, said the fox sculpture has been removed from Glapton Wood "to keep it safe".
He appealed for the safe return of the owl and kingfisher.
"I can only think that someone wanted them for their garden or thought they could sell them as garden ornaments," he said.
"They don't have any particular monetary value but they do cost us money to create."
He asked anyone with information to contact police.
"We want them back in the wood where they belong," he added.
The sculptures were created from living trees, and due to the cost of commissioning the chainsaw sculptor the charity said it was not currently able to replace them.