Nottingham solar farm approved at 'fabulous' wildlife site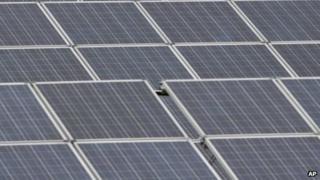 Plans to build a 'farm' of more than 20,000 solar panels at the former site of Gedling pit have been approved by councillors.
Gedling Borough Council said the site would generate enough electricity to power 1,000 homes.
They claimed the borough would soon be one of the country's leading renewable energy producers.
But campaigners said the area is a breeding ground for bird species including rare skylarks and lapwings.
'Fabulous wildlife value'
Council leader John Clarke said: "The overall site of the pit is quite large - 365 acres. The farm will be sited at the top and I don't think most people will see it.
"We have got to do something to provide energy in this country. This might create a bit of fuss with a few people but a bigger fuss will come if the lights go out.
"This is a proper use of this land and I am pleased it has gone through.
"It is a great use of a former coalfield."
Since the pit closed in 1991, it has remained as grassland.
The council plans to create a country park around the 14 hectare solar farm, which is being developed by RE-Fin Solar.
Erin McDaid, from Nottinghamshire Wildlife Trust, said: "Since the pit closed, the site has developed into a fabulous wildlife habitat.
"Within the footprint of the proposed farm, three key species - meadow pipet, lapwing and skylark - have bred in the last 18 months.
"We feel it's a shame a site with wildlife value has been chosen for this development.
"We have lost habitat hand over fist for the past 80 years. There are plenty of sites in the county that have no wildlife value that could have been chosen for a development like this."
He added the trust supported the proposals for a country park.