Nottingham vandalism reduced by 'Trojan bus'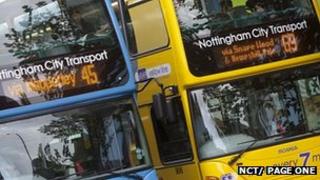 A "Trojan bus" is being credited with a sustained fall in transport vandalism in Nottingham.
The bus, which looks like a standard Nottingham City Transport (NCT) vehicle, has toughened glass and carries NCT staff and police officers.
Touring vandalism hotspots, officials said incidents of smashed windows had fallen from a peak of 207 in 2007 to 45 in 2012 to 31 so far this year.
The bill for repairs had gone from more than £200,000 per year to £40,000.
NCT runs the Trojan bus in partnership with the police and tram operators as part of the the Respect for Transport campaign.
Nicola Tidy, from Nottingham City Transport said: "Some people think buses are fair game and this shows they are not.
"It could be your mother or grandmother on that bus - it is scary and pointless."
Ms Tidy said the bus was sent to known problem areas and at peak problem times, usually after dark, in good weather and during school holidays.
While the number of arrests was low, she said, it was believed the major impact of the bus was as a deterrent.