A453 widening scheme: Five months of closures planned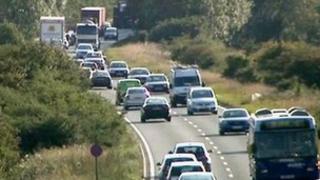 A series of closures is planned for the next five months along a major road in Nottinghamshire.
From the end of August until January part of the A453 will be shut overnight and on Saturday evenings.
The closures are part of a £150m scheme to widen a seven-mile stretch of the road into a dual carriageway.
Jonathon Pizzey from the Highways Agency said shutting the route was the "most efficient and safest way" to carry out the work.
From 27 August until 1 September the A453 will be closed overnight between the M1 junction 24 and Crusader Roundabout.
Then it will close every Saturday night from 28 September until January 2014.
Project director, Mr Pizzey said: "We are going to be closing the route almost every weekend in order to place the beams and bridge deck structures which are west of the power station.
"This is the best, most efficient and safest way to do it as we are going to have some very big lorries stopping on the existing A453 to lift the new structures into place.
"It is quite exciting to see it coming into fruition."
Mr Pizzey said the closures would enable contractors to tie-in new parts of the road and a new roundabout to the A453 as well as putting into place a new bridge being built next to the road.
The project, which began in January, is expected to be complete in summer 2015.