Castle Gate terrace to become residential housing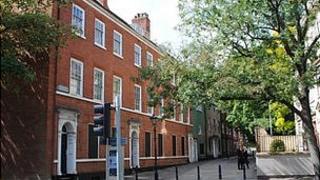 Historical buildings which used to house two museums in Nottingham city centre have been sold to a developer.
The city council confirmed 43-59 Castle Gate and Severns House would be converted to residential and business properties.
The Grade II-listed Georgian, Stuart and late medieval houses, which were put on the market in 2011, used to be costume and lace museums.
Work would be sympathetic to the fabric of the buildings, the authority said.
Deputy leader of Nottingham City Council, Graham Chapman, said the conversion would boost the area and preserve the buildings.
Second sale
"It's good to know the plan for these properties is a sympathetic restoration to their original purpose.
"I look forward to seeing them when the work is complete and enjoying the renewed character they bring to the area."
Ian Wells, spokesman for Nottingham Civic Society, said: "I welcome the news these important buildings will be brought back into use.
"However, we urge those involved to make sure the process retains the unique character of the properties and atmosphere of the area."
The scheme will see the terrace turned into seven houses and one commercial property.
It comes after the sale of another set of listed buildings - a Victorian terrace on Mansfield Road - also being turned back into homes.