Report calls for force to end 'undignified' treatment of some detainees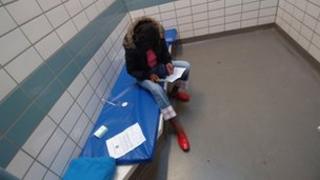 A government report has called for an end to Nottinghamshire Police's "undignified treatment" of some detainees, following a snap inspection.
Although the report said police custody had "significantly improved", it called for better care for vulnerable people.
It follows a case in which three Nottinghamshire police officers were disciplined for their treatment of a pregnant woman.
The force said it was working to improve provision.
The report, by the chief inspector of prisons, Nick Hardwick, and Dru Sharpling, HM Inspector of Constabulary, followed an inspection in March.
It looked at three custody suites operating 24 hours a day at Nottingham Bridewell, Mansfield and Newark.
'Area of concern'
It followed a previous inspection in September 2011 in which the custody suites were rated "poor" and "dirty".
The latest report praised the police's management of its custody arrangements and said staff were "compassionate and skilled".
Overall, it said detainees were treated with respect.
However, it called for the police to forge better partnerships with other organisations to improve its care of children and people with mental health issues.
It also said it was concerned to find detainees who had their clothes removed for their own safety were not always provided with replacement rip-proof clothing or observed by staff of the same gender.
The Independent Police Complaints Commission is investigating the arrest of Lynette Wallace, from Nottingham, who was stripped from the waist up and handcuffed at Bridewell when she was seven months pregnant in 2011.
Ch Supt Helen Jebb said the report confirmed the force had made huge progress and conditions were a lot better.
She added: "The report raises some concerns about supervision of female detainees when they are partially clothed. That's been an area of concern for us.
"We have introduced new guidelines to make sure we have female officers looking after those individuals who may not be wearing full clothing."