'Bling' Mansfield mayor banned from wearing chains of office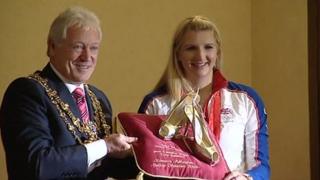 A Nottinghamshire council has banned its directly-elected mayor from wearing his chains of office.
Supporters of Tony Egginton, who has been mayor of Mansfield since 2002, said the decision was "disgusting".
However, the majority Labour group, which made the decision, described the chains as "bling" and said Mr Egginton should "be concentrating on running Mansfield".
The local government ombudsman has now been asked to intervene.
'Not 21st Century politics'
Mr Egginton became the town's first elected mayor in 2002, ending nearly 30 years of Labour leadership in Mansfield.
He secured a third term in office in 2011, beating the Labour candidate by just 67 votes.
During his time in office, he has become known for his role in important civic ceremonies.
These included the town's 2008 welcome for double Olympic champion Rebecca Adlington, during which he presented the swimmer with a pair of golden Jimmy Choo shoes.
Mr Egginton said: "The main issue for me is for the people to enjoy seeing their elected first citizen with the chain of office on, particularly the children."
However, Martin Lee, the council leader, said the council chairman should wear the civic chains and not the mayor.
"He really should be concentrating on running Mansfield District Council as a medium-sized business and also driving the district forward," said Mr Lee.
"This is not 21st Century politics - this is parading around in bling."
The chains have been removed from a display of civic regalia and locked in a safe until the dispute is resolved.