Grizzled skipper butterfly 'saved' in Nottinghamshire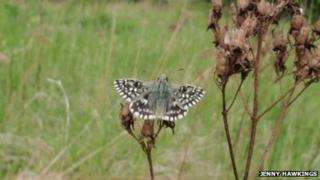 A rare butterfly that was "almost extinct" in Nottinghamshire has been saved thanks to a £66,000 grant, conservationists have said.
The grizzled skipper, numbers of which have more than halved in Britain in 40 years, has now revived in the county.
The Butterfly Conservation charity, which carried out the work, now hopes to extend it to Leicestershire.
It said the project, which involved growing a rose variety the butterflies feed on, was a "great success story".
Bill Bacon, chairman of the East Midlands branch of Butterfly Conservation, said: "Nottinghamshire is the northern-most end of this butterfly's range.
"There used to be grizzled skippers in Yorkshire, but over the years they have declined."
In 1900, the charity says the butterfly was found in a third of UK but it's currently distributed across less than 13%.
Mr Bacon said in 2011 just 68 adult butterflies were noted in Nottinghamshire. However, 216 were spotted in 2012 and Mr Bacon believes even more will be sighted this year.
He said: "I am confident the grizzled skipper is saved in Nottinghamshire."
The butterflies used to thrive on the open, bare ground near railway lines, but the closure of many branch lines in the 1960s meant the routes became overgrown and the species started to disappear.
The charity used the grant to fund scrub clearance, in the hope of reuniting the four remaining Nottinghamshire communities at East Leake, Bingham and Saxondale, Langar Airfield and Kilvington.
It also laid piles of granite ballast along the routes and grew creeping cinquefoil, a wildflower in the rose family which the butterflies feed on, over the piles.
Mr Bacon now hopes a further grant bid will allow the charity to extend the project towards Harby, in Leicestershire, where the species is also under threat.
The £66,000 grant was provided by SITA, an environmental company.