Nottingham care home death: Eleven arrests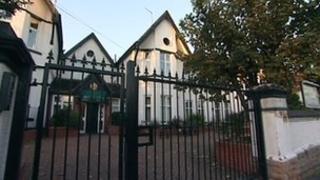 Eleven people have been arrested on suspicion of the manslaughter of an 86-year-old woman at a Nottingham care home.
Ivy Atkin died on 22 November 2012, shortly after she moved out of Autumn Grange care home in Sherwood Rise.
Nottinghamshire Police said five men, aged between 37 and 77, and six women, aged between 19 and 52, had been arrested.
Five of those arrested have since been released on bail.
Police said they were continuing to question three men and three women.
The home closed in 2012 when its council contract was suspended.
The closure followed a Care Quality Commission (CQC) inspection which raised concerns about fire safety and cleanliness at the home.
Serious case review
An investigation is under way into the standards of care provided to residents at Autumn Grange. It involves the police, Nottingham City Council and the CQC.
Candida Brudenell, Nottingham City Council's director of adult social services, said: "Last year, when the owners of Autumn Grange informed us at short notice and in breach of their contract with us that they intended to close the home, we acted swiftly to move all residents to alternative homes.
"Sadly one resident later died, and I extend my sympathy to her family.
"We have since been conducting a safeguarding investigation into issues at the home, in conjunction with the police and the Care Quality Commission and will continue to help the police with their investigation into the death of a former resident."
Paul Burnett, the independent chair of the Nottingham City Adult Safeguarding Partnership Board, said it had started a Serious Case Review to investigate the circumstances surrounding the death and would publish its report after the criminal and coroner's investigations had finished.
Plans have been put forward to turn the Autumn Grange site into flats.