Miss Nottingham finalist Rebecca Draper on gun charges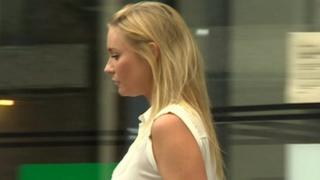 A former Miss Nottingham finalist has appeared in court accused of selling gun parts illegally.
Rebecca Draper, 27, is accused of selling or transferring four firing pins and an extractor without lawful authority over the past 12 months.
Ms Draper is the managing director of field sports supplier Drapers Airguns in Radford.
She denied four counts of selling gun parts illegally at Nottingham Crown Court.
The charges all involve components for the prohibited Glock and Luger handguns which cannot be owned without a licence.
Ms Draper was released on bail until her trial, which is due to be held in December.