Calls for Newark Hospital to switch NHS trusts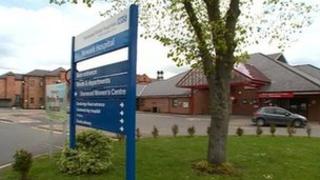 Ten parish and town councils have suggested Newark Hospital - whose management was criticised in a government report - be transferred to another NHS trust.
In a letter, The Newark Healthcare Consultative Group claims there is no clear strategy for Newark Hospital.
It has suggested moving to the Nottingham University Hospitals Trust, which also has better transport links.
But Sherwood Forest Hospital Trust said strategy work was already under way.
The letter says: "Newark Hospital is at the moment part of a trust which can only be described as failing, both from a financial and operational perspective.
"The recent report identifies that Newark Hospital has not been included at the core of strategic thinking within the trust and this has resulted in it being left with no clear strategy for its future use."
The group also points out that public transport links to King's Mill Hospital - with which it is affiliated - are poor and can it take up to three hours each way by bus.
"Whilst the hospitals in Nottingham are a similar distance away from Newark they are significantly more accessible.
"The recently opened A46 is a dual carriageway for most of the route; the travel time by car to the QMC is around 25 minutes.
"Public transport is also much better with direct bus routes and trains operating from Newark Castle."
'Process started'
Sherwood Forest Hospitals Trust, which runs Newark and Kings Mill hospitals, was criticised in Prof Sir Bruce Keogh's report into higher-than-expected hospital death rates at 14 trusts.
It said major operations such as joint replacements were being carried out at Newark without back-up facilities, including a blood bank.
The report also raised concerns about the effectiveness of senior management at Newark Hospital and the trust's whistle-blowing policy.
Paul O'Connor, chief executive of Sherwood Forest Hospitals Trust, said: "The new board came in two months ago and has been told by the regulators that we need to submit a strategy by the end of October.
"We need to identify a strategy and have started a process with the local CCG [Clinical Commissioning Group), with the public at meetings and with staff."
Mr O'Connor has offered to meet with the group to discuss its concerns.