Nottingham Playhouse gets £1m Arts Council funding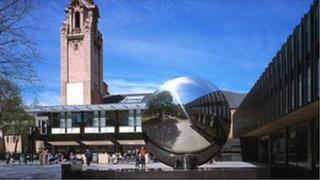 A city theatre has been handed £1m in arts funding to help it become more energy efficient.
The Nottingham Playhouse, which marks its 50th anniversary this year, said the money would be spent on solar panels and new light fittings.
Chief executive Stephanie Sirr said the age and architecture of the theatre meant it was expensive to heat and light.
Bosses hope the changes will help the theatre save £35,000 a year.
European premiere
Ms Sirr said the funding from the Arts Council would be spent on upgrading the theatre and would help them spend less on managing the Grade II listed building.
She said: "We need to create a legacy for our future generations of Playhouse visitors and with a theatre that is fit for purpose, we can concentrate our efforts, energy and resources on providing quality performances for them."
The money will be spent on fitting 156 solar panels, replacing original light fittings to reduce energy consumption and installing new door lobbies to reduce heat loss.
The theatre's fundraising and development manager, Nick Lawford, said a further £75,000 still needed to be raised within six months to ensure the work could go ahead. He asked visitors to donate £1 each to the appeal.
The Nottingham Playhouse opened in 1963 and in 2010 was named as one of Nottinghamshire's "most outstanding buildings" of the last five decades.
Earlier this year it was chosen as the venue for the European premiere of the stage version of the Kite Runner.