Nottingham City Council plan to illuminate Trent Bridge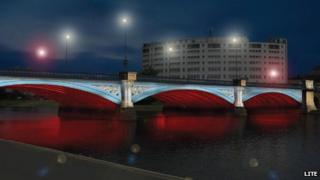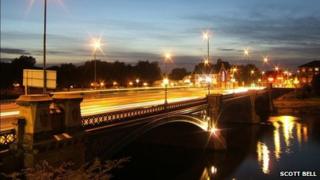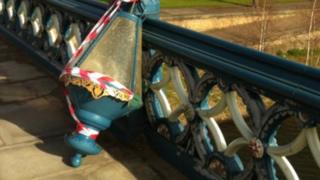 Plans have been announced to illuminate Trent Bridge, a major crossing point into Nottingham city centre.
The city council has appealed for sponsorship from businesses and the public to support the £150,000 project.
LED floodlights will be placed on the underside of the arches and could change colour for special occasions.
The bridge, which crosses the River Trent, will also be decorated with emblems reflecting Nottingham's sporting heritage.
Councillor Graham Chapman, deputy leader of Nottingham City Council said: "It'll make an enormous difference when you consider the number of people who cross the bridge for the football or the cricket.
"We're hoping to attract sponsorship from some of our best known sporting venues, but we're also looking to the business community, energy providers and members of the public to help get this off the ground."
Glyn Jones, senior lighting engineer with the city council said lighting up the bridge would "cost no more than switching on three electric kettles".
Engineers are planning to put on a demonstration show on the bridge in the autumn.
The current lighting at Trent Bridge was installed 30 years ago.
One Victorian style lamppost was damaged in high winds earlier in the year.