'Shrink-wrapped' rabbit found dumped in bin bag in woods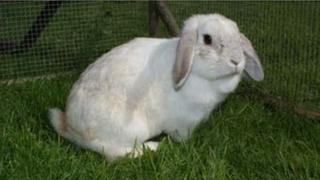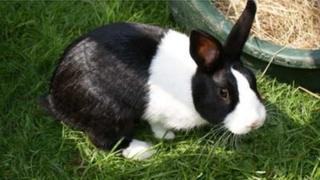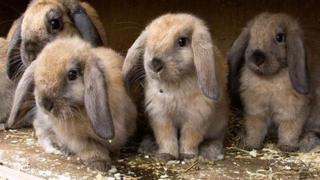 A dumped rabbit found "shrink-wrapped" and close to suffocation is recovering at a rescue centre in Nottinghamshire.
The rabbit was in a tied plastic bin bag and had used up nearly all of the air inside by the time she was found.
A dog walker found her in woods in Bulwell, Nottingham, on Monday and took her to Brinsley Animal Rescue.
The centre has been told about 10 rabbits being dumped in the last two weeks and said the problem is getting worse.
'Could be pregnant'
Beth Hewis, who runs the charity, said: "The lady said the bag was tied up really tightly around the rabbit.
"It was shrink-wrapped because she had taken in all the oxygen and available air around her, and it was shrink-wrapped around her really tight.
"I don't think she would have even had an hour to live in that state."
The rabbit has now started making a nest, which could mean she is pregnant, the centre said.
It already looks after about 30 rabbits which need permanent homes, and has to turn many unwanted rabbits away.
Rabbits and other animals can be seen by visitors at a fundraising open day on Sunday.
Ms Hewis said: "We just live in this awful throw-away society and people treat animals like a television set or computer and think once they are done with it they can just dump it."