Farm crime costs East Midlands farms £3.8m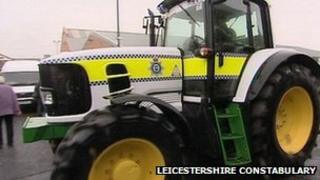 Rural crime cost the East Midlands £3.8m last year, new figures show.
In Lincolnshire the cost of such crime on farms and rural homes was £1.8m, the third worst in the UK.
Rural insurers NFU Mutual, which compiled the report, said the national picture was down on the figures for 2011.
Agricultural machinery was the main target of the thieves along with tools and fuels such as heating oil and red diesel.
'Ongoing battle'
John Kerr who farms at Westborough near Long Bennington, has installed extra security after having equipment stolen and said he was "cross and frustrated" by a problem that had an emotional as well as financial cost.
"Your space and privacy has been invaded. We are working with the police, we are members of Farmwatch and Neighbourhood Watch but it is an ongoing battle.
"You get people coming on to the farm on the pretence of looking for scrap or enquiring about land to rent and you feel they are all the time looking at where to hit next."
Chris Cockayne, who farms near Bingham, said he had lost about £20,000 worth of machinery in recent years.
"That consists of two toppers (tractor-towed device which gathers straw) that were chained into sheds and the chains were cut.
"We have had a tractor taken which was used to rob the bank at Bingham and that was hotwired - no keys were left in it. We are just very, very vulnerable here."
Tim Price, from NFU Mutual, said Lincolnshire had been forced to "bear the brunt of an explosion in agricultural crime" over the last few years.
He said: "This problem almost came from nowhere a few years ago and after years of sharp rises we have seen a fall in 2012.
"So there is some good news that the efforts of farmers and police are beginning to work."
The NFU says farmers are starting to use their own methods of protecting their homes and businesses including bringing in geese to alert homeowners of trespassers, placing more aggressive animals such as llamas in with other livestock, or installing retractable cattle grids to keep uninvited vehicles out.
Rev Canon Alan Robson, Lincolnshire Agricultural Chaplain, said calls to the Lincolnshire Rural Support Network from farmers needing help had increased by a third in last five years.