Vito Difina detained over father's manslaughter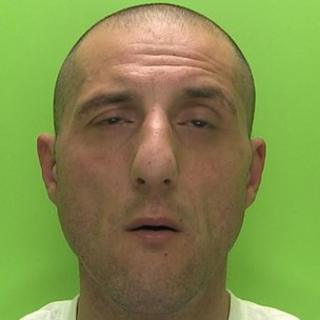 A paranoid schizophrenic who stabbed his father in a row over a lift has been detained in a secure hospital.
On Wednesday, Vito Difina, 40, of Cavendish Road, Carlton, Nottingham, was found guilty of the manslaughter of 68-year-old Giuseppe.
Nottingham Crown Court heard the pair had argued outside Giuseppe's house in Cliff Road, Carlton, in September last year.
A murder charge was dropped during the trial because of Difina's mental state.
Difina was sentenced under the Mental Health Act and given a hospital order - with an additional restriction that only the Ministry of Justice can give permission for him to be released.
Grim discovery
The court heard the family had been dealing with Difina's violent outbursts for more than 20 years.
There were no witnesses to the attack but Giuseppe was found by his wife, badly injured, inside the house.
He managed to phone the emergency services and told the dispatcher he needed an ambulance because "my son has been stabbing me in my chest".
He died in hospital three days later.
Giuseppe's daughter Toni, said: "He was not only loved by us, he was popular in the community, with young neighbours calling him 'Granddad'.
"Since his death people have come to us with their stories of Giuseppe the joker, always laughing.
"We even received a tribute picture from local school children he used to sell ice cream to. We treasure these moments.
"For a man who was so loved by children, it has been especially devastating knowing that the child he brought into this world removed him from his."
Steve Chappell, chief crown prosecutor with Crown Prosecution Service East Midlands, said: "Vito Difina maintained he was not responsible for stabbing his father. He was found guilty by the jury.
"The trial took place to prove that he had carried out the stabbing and whether this act constituted murder or manslaughter.
"During the course of the trial, medical evidence made it clear that this was not a planned or premeditated murder and therefore the jury was asked to determine whether he was guilty of manslaughter on the basis of diminished responsibility due to his illness."
Nottinghamshire Healthcare, which provides local mental health services, said they could not comment on the case but confirmed Difina had contacted them in 2012 and an independent Domestic Homicide Review was under way.