Eric Pickles calls in Field Farm green belt housing plan for inquiry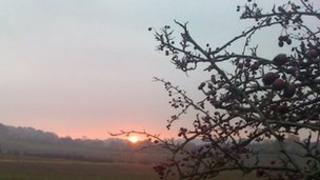 A decision to build 450 homes on green belt land in Nottinghamshire is to be investigated in a public inquiry.
Communities Secretary Eric Pickles called in the scheme, for Field Farm near Stapleford, which was approved by Broxtowe Borough Council in April.
Mr Pickles said the plans, which have attracted significant opposition, may conflict with national policies.
But the council said they believed they would be exonerated.
'Big fight ahead'
Resident Richard MacRae, who sits on the Stapleford and Trowell Rural Action Group (STRAG), which has campaigned against the plans, said: "It's really good news.
"It just shows how the hard work of everybody connected with STRAG has paid off.
"Obviously there's a big fight ahead but we are hopeful we will be listened to. The land at Field Farm is used by people every day, whether that's to walk their dogs or just enjoy the landscape. It needs to be protected."
Anna Soubry, Conservative MP for Broxtowe, has also opposed the plans.
She said she was "quite surprised" by Mr Pickles's decision.
"I am very pleased because it is specifically what I asked him to do," she said.
"It's very difficult when a council has made a decision in favour of planning for a secretary of state to step in as he has done.
"He has done it because he thinks there are serious national issues he thinks need to be explored, notably the status of greenbelt land."
'Taken aback'
She denied Mr Pickles had agreed to the decision because he was responding to a request by a fellow Conservative MP.
Ms Soubry said: "He has to make decisions based on planning rules and regulations. He has to be above party politics."
Councillor Steve Barber, who chairs Broxtowe's development control committee, said: "We are a little bit taken aback. The problem is the national planning policy framework, although well-intentioned, is very difficult to follow.
"It's a lawyer's dream, because there are that many loopholes in it. We can only go on what is in front of us."
Broxtowe has agreed to deliver a target of more than 6,000 houses over the next 15 years.
"In Broxtowe we do not have a five-year supply of land because our brownfield sites are not ready for development," said Mr Barber.
"We need this land in the next five years, according to the national framework. If we haven't got it, we're in trouble."