Nottingham Station: Your reactions to upgrade work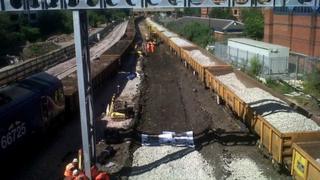 Nottingham Station is currently undergoing five weeks of upgrades to its signalling, tracks and platforms.
This means people who would normally use the station to get to work, visit friends - or even go on their annual holiday - have been forced to find alternatives.
East Midlands Trains, which operates the routes, has provided networks of replacement bus services.
But what have the line closures meant for you and your family?
Have you been impressed by the efficiency of the alternative connections or left feeling high and dry?
You can get in touch using the form below. Please include a telephone number if you are happy to be contacted by a BBC journalist.