Nottingham Station: Commuters' tales of closure chaos during rush hour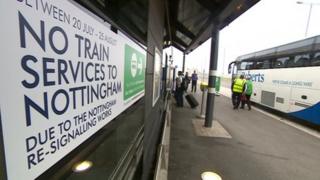 Confused bus drivers have emerged as one of the problems for commuters during the first rush hour since the closure of Nottingham railway station.
The station is virtually closed for five weeks while work is carried out on signals and to build a new platform.
Replacement buses have been ferrying passengers from Nottingham to Derby, Leicester and East Midlands Parkway.
East Midlands Trains said any teething problems would be ironed out in the next few days.
On the first weekday since the part closure, some commuters said their journey had been "smooth" while others experienced problems.
Lost bus driver
Chris Hamlett, 33, from Birmingham, works as researcher at Nottingham Trent University's Clifton campus. His journey usually takes two hours but on Monday it took three and a half hours after the bus driver got lost.
He said: "I was expecting it to be bad but I wasn't best pleased when it took an hour and 15 minutes to travel from Derby to Nottingham.
"I don't know where he went but when a passenger told him he was going the wrong way he went back into Derby and out again.
"I couldn't believe it. Doesn't exactly fill me with confidence for next five weeks.
"I'm hoping it gets better."
Jacob Hooper was on a bus from East Midlands Parkway to Nottingham but again the driver was unsure of where the station was.
"When we approached along Queens Drive, the bus driver asked 'is this the station' to which the whole bus burst into laughter," said Mr Hooper.
"He then stopped at the traffic lights and let everyone off. No one could believe we were actually getting off there."
Several bus and coach companies from across the UK are being used to transport passengers between stations, including one coach company from Cumbria.
'Keep people moving'
David Horne, managing director for East Midlands Trains, advised passengers to plan ahead for their journeys.
He said: "We know buses will get caught in traffic and we have got plenty of standby buses to keep delays at a minimum, and keep people on the move the best we can.
"The situation will improve as the days go on."
A spokeswoman for East Midlands Trains added: "There are over 750 buses a day running for our passengers during the Nottingham improvement works and 99% of these bus services have run without any incident today.
"With an operation of this scale, there are always individual challenges to overcome, but that is when the years of planning by ourselves, Network Rail and other organisations proves its worth.
"We would like to thank our customers for their co-operation so far and for the coming weeks ahead."
David Astill, commercial manager for Nottingham City Transport, which is one of the companies contracted to help, said: "It has been very well organised. Saturday and Sunday went remarkably well and it has been fairly smooth on Monday.
"If anything goes wrong it will be down to traffic and congestion."