Kate Beckinsale unveils plaque for father Richard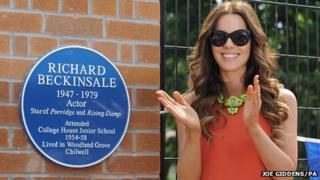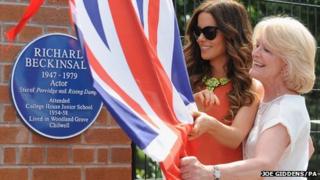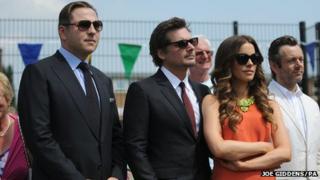 Hollywood actress Kate Beckinsale has unveiled a plaque in honour of her late television star father at his former school in Nottinghamshire.
Richard Beckinsale, who starred in Porridge, attended College House Junior School in Chilwell, in the 1950s.
Kate, who starred in Total Recall, was accompanied by her mother Judy Loe and film director husband Len Wiseman.
Head teacher Mark North said he hoped children would continue to be inspired by Richard Beckinsale's career.
Mr Beckinsale is best known for his roles as Lennie Godber in BBC sitcom Porridge and Alan Moore in ITV's Rising Damp.
He died aged 31 in 1979, after suffering a heart attack.
Mr North said: "It's a real honour for the school to be a part of this special occasion, dedicated to the memory of Richard Beckinsale.
"It was a once in a lifetime experience for us all. We are honoured to have hosted such distinguished guests.
"We place a high priority on the performing arts in school, and hope that pupils will continue to be inspired by Richard's career for many years to come."
Kate Beckinsale was also unexpectedly joined by ex-partner and actor Michael Sheen and comedian David Walliams for the unveiling on Wednesday afternoon.
Kate, who was born in 1973, has starred in the Underworld films and in the 2012 remake of Total Recall.
Her half-sister Samantha is also an actress and played a firefighter in ITV's London's Burning for two years from 1990.