Red Arrows fly-past marks Armed Forces Day in Nottingham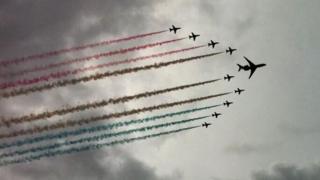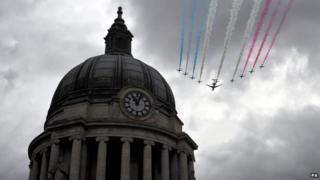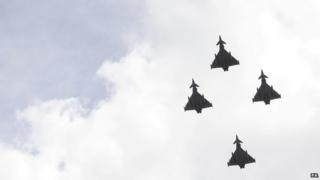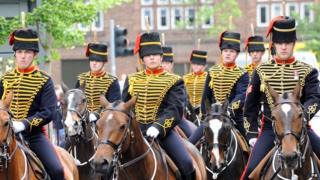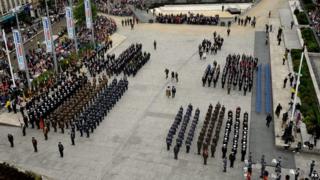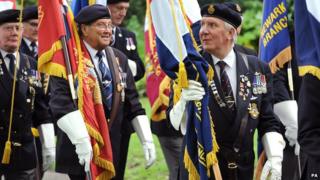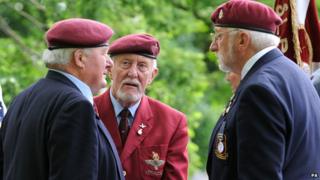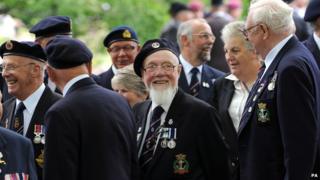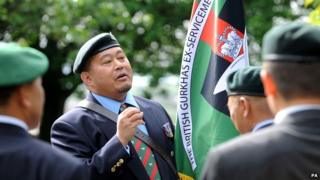 A Red Arrows fly-past and a gun salute marked the start of Armed Forces Day in Nottingham.
The national event, which is designed to celebrate the Army, Royal Navy, and Royal Air Force (RAF), is being held in the city for the first time.
About 60,000 people are expected to view the ceremonies taking place throughout Saturday.
The programme includes a display of Battle of Britain memorabilia and a parade from Nottingham Castle.
'Spectacular display'
More than 150 service personnel, two military bands and 14 horses from the King's Troop Royal Horse Artillery are taking part in the parade, as well as 90 marching cadets and veterans from across the UK.
Major Mark Edward, commanding officer of the King's Troop, said: "We have a dozen horses and soldiers taking part in the parade.
"We will also perform a version of the Musical Drive at the Victoria Embankment with four gun teams, so a spectacular display of horses and soldiers galloping around at great speed."
Military wife Sally Wagstaff was among those watching the event.
"It's a huge thing and it's really lovely the role of the armed forces is being recognised," she said.
"It's lovely to see all the military get together."
There will be a landing on the Victoria Embankment by the RAF Falcons Parachute Display Team.
The King's Troop Royal Horse Artillery will close the day.