Malakai McKenzie murder: Cameron Cashin given life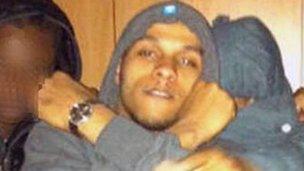 A man who shot a gang rival in the head as he sat in a car outside a pub has been given a life sentence for murder.
Cameron Cashin, 21, shot Malakai McKenzie, 19, outside The Hubb in Sherwood, Nottingham, on 21 April 2012.
Mr Justice Royce said Cashin, of Liddington Street, Basford, should not be considered for parole for at least 34 years.
The Nottingham Crown Court judge described the killing as a "wicked assassination".
Malakai McKenzie was targeted three times in three months in a series of tit-for-tat attacks between rival gangs, the court heard.
Cashin fired four shots into the car. He was also convicted of the attempted murder of the victim's brother and two cousins, who were in the car with Mr McKenzie.
Screams of "rot in prison" were heard in court and scuffles broke out after Cashin was found guilty.
Mr Justice Royce said Cashin had snuffed out Mr McKenzie's young life without a care. He saw his quarry and shot to kill.
He added: "Shootings on our streets of our towns and cities are intolerable.
"This is a cynical, heartless and wicked assassination. It didn't stop at that as you intended to murder the others."
Det Ch Insp Tony Heydon said: "Cashin was intent on killing somebody that night.
"For someone to walk up to a car and effectively fill it full of bullets is a horrendous set of events.
"It traumatised people in the car and clearly, Malakai lost his life.
"It's just despicable. An assassination in the inner city of Nottingham is just a horrible, shocking event for everybody."
Malcolm Francis, 19, and Ijah Lavelle-Moore, 21, both of Basford, have both been cleared of murder.
Related Internet Links
The BBC is not responsible for the content of external sites.