Malakai McKenzie murder: How gang feud led to shooting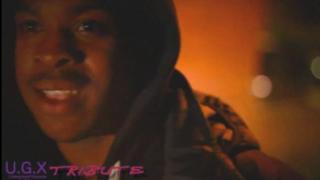 Just a "decent young lad" who became caught up in a feud between rival gangs in Nottingham, Malakai McKenzie was shot through the head in what police described as an assassination.
It was the third time his murderer, Cameron Cashin, had targeted him in less than three months.
The 19-year-old was finally ambushed as he sat in a car, outside a pub, with his two cousins and one of his brothers.
Malakai ducked as the first of four shots was fired, but the second bullet went straight through his head.
His father Clive McKenzie, who works with offenders for the probation service in London, described the events of 21 April 2012 as "a murder that could have been avoided".
"Society has changed; people in fights nowadays use a gun or a knife," he said.
Gun down trousers
Mr McKenzie, 47, believes that many young people have become desensitised to guns because of the influence of films, computer games and music.
"That's the message in the media about how to settle scores or conduct your life," he said. "Thirty years ago it was fist fights."
When police searched Cameron Cashin's Facebook page they found a photo of him posing with a semi-automatic pistol - stuffed down his trousers.
Among numerous other photos of guns, knives and bullets was an image of a gun placed next to a bottle of Hennessy cognac - referenced in numerous rap and hip-hop songs.
'Used social media'
Det Ch Insp Tony Heydon said 21-year-old Cashin was "fascinated by firearms".
"He used social media to effectively advertise what he had access to, whether it be money, whether it be firearms," said Mr Heydon.
"He was just an individual that clearly in a misguided way thought that he wanted to be a big man, and he was happy to get involved in violence against other people, including Malakai McKenzie."
The moment Malakai was murdered was captured on CCTV, which was shown to the jury.
Four hooded figures can be seen approaching the car, one of the figures raises an arm, then four flashes are visible.
"It's a shocking piece of footage," said Mr Heydon.
"Cashin was intent on killing somebody that night and for somebody to walk up to a car and effectively fill it full of bullets is a horrendous set of events.
"It traumatised the people in the car. Clearly Malakai lost his life. It's just despicable. An assassination in the inner city of Nottingham is just a horrible shocking event for everybody."
Cashin, of Liddington Street, New Basford, was found guilty of murder and three counts of attempted murder.
"It was only through the sheer grace of God really that the other three remained unharmed in that car, else it could have been significantly worse than it already was," said Mr Heydon.
Police believe the events which led to Malakai's death went back about two years.
"Certainly there were these two rival factions who both came from either end of Basford - New and Old Basford," said Mr Heydon.
Shootings and stabbings
Police believe there had been fights in the city centre where the gang members had armed themselves with sticks and bars.
The incidents became more serious, leading to "more than one stabbing" and several shootings.
"What actually has begun to happen is that every time McKenzie and Cashin were anywhere near each other, Cashin would target McKenzie, and we believe that he tried to shoot Malakai McKenzie on at least two occasions," said Mr Heydon.
The murder trial at Nottingham Crown Court heard that Cashin was partly motivated by revenge - as he and Malakai had previously been involved in a fight.
But Malakai's family said that such violence was out of character.
"I knew about the [previous] shootings," said Malakai's eldest brother, 28-year-old Cameron McKenzie.
"He [Malakai] asked me 'What do I do?'
"He's not violent, but he's not going to hide."
Malakai was a keen footballer and he was studying to become a sports coach.
"Malakai never had a problem at school," said his eldest brother.
"His teacher wrote a really nice tribute for the funeral."
He added that his brother, known by the nickname of Buff since childhood, was "very loved" and "a decent young lad".
Clive McKenzie said he feels angry, bitter and resentful about his son's murder.
"When I went to the hospital, I prayed for a miracle, but he didn't make it," he said.
"I watched him come into the world and I watched him go out of the world."