Keogh review: Panel inspects Sherwood Forest Hospitals Trust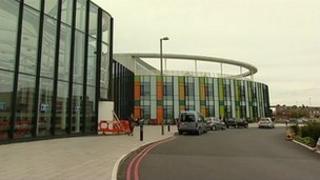 Standards of care at Sherwood Forest Hospitals Trust are under the spotlight as part of a review prompted by unexpected death rates.
The Nottinghamshire trust, which runs Kings Mill, in Sutton-in-Ashfield, and Newark hospitals is one of 14 which are part of the Keogh review.
The inspection will look at the standards of care after the Dr Foster unit flagged up higher than expected death rates.
The trust said it welcomed the review.
The government announced the review, led by NHS medical director Sir Bruce Keogh, in the wake of the Stafford Hospital scandal.
'Smoke alarm'
It is looking at the standards of care at 14 trusts where there were higher than expected mortality rates.
Dr David Levy, who is leading the review of Sherwood Forest Hospitals Trust, said the death rate can be a "smoke alarm" for potential problems.
"We need to understand why the death rates are so high, what reasons are there for it and to understand the actions the trust are taking," he said.
"Are there other actions the trust should be making as well to ensure that patients have the safest care for the best outcomes and a good experience?"
Experts will spend two days visiting staff and patients and hold a meeting to get the public's opinions on the trust.
It will also look at the leadership, particular in view of the financial difficulties it is facing.
The panel is expected to report back later in the year.
Eric Morton, who was interim chief executive of the trust, said ahead of the inspection: "The quality and safety of our services is paramount and I welcome any external review that helps us to further improve our services at a swifter pace."