Gotham attack victim lamb wears a hat to help his recovery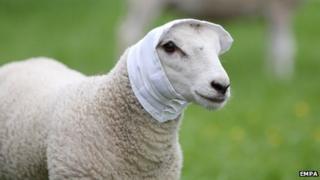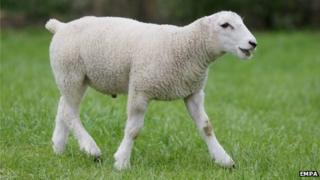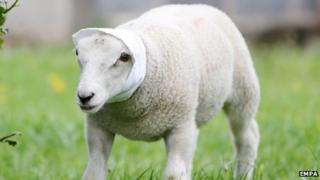 A lamb that had his ears cut off in a vicious attack is wearing a hat to help him recover from the ordeal.
The eight-week-old lamb, who was named Nelson by farmers Kenneth and Val Gunn, is said to be in good health.
Mrs Gunn said a neighbour had made the cotton hat for Nelson to help protect him.
The RSPCA said it was still investigating the incident in Nottinghamshire and appealed for any witnesses to come forward.
Disowned by mother
Mrs Gunn said Nelson was in "absolutely fantastic" shape, although she thinks the attack may have left him deaf.
He lives in a barn on Highthorn Farm, between East Leake and Gotham.
Mrs Gunn found a ewe to act as a foster mother to him, after his own mother disowned him following the attack.
"One side of his head has healed completely - the other hasn't healed as well," she said.
"He got sunstroke a couple of weeks ago which is why we got him the hat. It fastens around his neck and he wears it outside."
Mrs Gunn added Nelson was now looking chunky and robust.
She said she had received lots of support from people following the attack in May.
"People were ringing me in tears and offering to give him a home," she said.
However, she said he was happy at the farm.
"He won't go to slaughter - he's like a pet now," she said.
An RSPCA spokesperson said: "We've not had any leads on this, but we are still investigating and would still appeal to anyone with information to contact us."