Queen's Royal Lancers march through Nottingham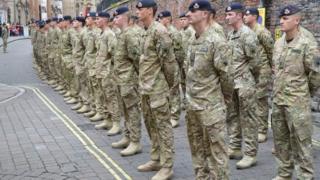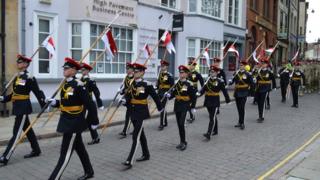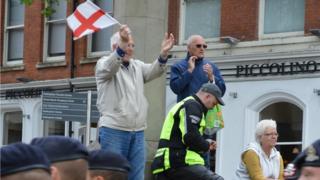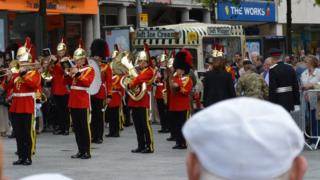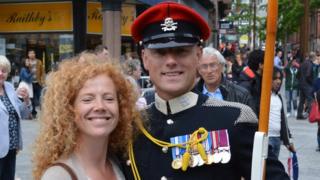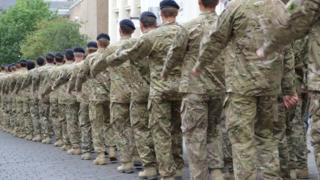 Two hundred soldiers from the Queen's Royal Lancers have marched through Nottingham to mark their return from a tour of Afghanistan.
The Regiment recruits many of its soldiers from the Nottingham area and has the freedom of the city.
Hundreds of people lined the parade route from St Mary's Church to Old Market Square.
A civic reception was held for the troops after the march at the city's Council House.
Afghan raids
Nottingham's mayor Merlita Bryan said: "This was our opportunity to show them how proud we are of their bravery and hard work in Afghanistan.
"It is hard to put into words the pride we have for our Armed Forces but the cheering of a crowd can say it much better than I can."
Some people on the streets cried out "well done lads" as the troops marched past toward Nottingham's main square.
The Royal Lancers served in Afghanistan as part of Task Force Helmand where they carried out reconnaissance duties and also trained members of the Afghan army and police.
During the latest tour of duty, the regiment recovered 152 weapons caches and nearly 4,000kg of explosives.
The regiment also helped seize a total of 5,400kg (11,900lbs) of narcotics during their six-month tour.
Commanding Officer Lt Col Jules Buczacki said the Lancers had not suffered any fatalities during the tour, but a number of soldiers had been seriously injured.
The annual Armed Forces Day is being held in Nottingham on 29 June with a parade from Nottingham Castle to the Old Market Square.