Death fall man Joseph Tauya photographed by onlooker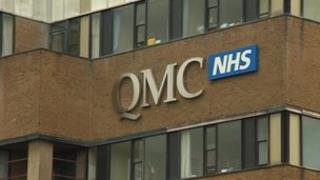 A man who threw himself out of a Nottingham hospital window after brain surgery was photographed by an onlooker on a mobile phone, an inquest is told.
Joseph Tauya, 55, of Braunstone, Leicester, had a tumour removed at the Queen's Medical Centre at the end of February 2012.
Nottingham Coroner's Court heard he became agitated after steroid treatment and smashed the fourth floor window.
Despite the efforts of staff, he fell to his death.
Determined to leave
Senior nurse Sue Arnold described Mr Tauya as a big man who was fighting for up to ten minutes to break free from the grip of hospital staff as he dangled from the window.
She said her worst memory was seeing a man outside taking pictures.
The inquest heard steroids were commonly used to reduce swelling in such cases but had well-known side effects such as severe mood swings.
A junior doctor and two nurses gave evidence that before the operation Mr Tauya had been polite and approachable.
After he became agitated and loud, and was determined to leave the ward - he was banging on doors shouting "I command you from Jesus to open this door".
The Nottinghamshire coroner Mairin Casey has now retired to consider her verdict.
She said a key question to address for Mr Tauya's family is whether or not it would have made any difference if he had been given a strong tranquiliser earlier.
However, the inquest had already heard this type of treatment was only used as a last resort and was not guaranteed to work.
In a statement, his family said Mr Tauya was "a great father" and had no history of mental illness.