Nottingham to host top tennis 'performance academy'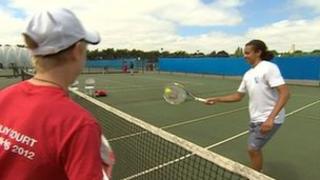 Nottingham is set to become one of the Lawn Tennis Association's top five tennis development centres.
About £200,000 will be spent training young tennis players at the Nottingham High Performance Academy starting in September, according to the LTA.
Mark Taylor, who is head coach in Nottingham at the current tennis centre, said the new academy would be "the strongest in the Midlands".
It will offer training to about 20 top players in the region.
'Massive difference'
"It enables us to get the best youngsters together and give them the best shot at becoming internationally relevant," Mr Taylor said.
"We say to the kids every day that somebody has to be the next Andy Murray and someone has to be the next Roger Federer, so why not you right here in Nottingham?"
Marcus Walters, 15, from Nottingham, who was British national under-14 champion in 2012 and started playing tennis at age three, already trains for at least four hours a day in Nottingham at the existing academy.
"The commitment is huge - you have to take yourself away from all the other things going on in your life and commit yourself to tennis," he said.
He is aiming to reach the top 300 in the world rankings for under-18s by September.
Marcus's father, Seymour Walters, said: "It will make a massive difference for Marcus as he will be pushed by some of the best players around."
Paul Hutchins, tournament director of the Aegon Trophy in Nottingham, said the centre would become one of the top performance centres in the country.