Spanish Civil War memorial board sparks political row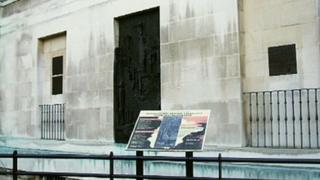 Plans to reinstate part of a memorial to men who fought in the Spanish Civil War have prompted a political row.
Councillor Kay Cutts had the board replaced with a general war memorial when her Tory group gained control of Nottinghamshire County Council in 2009.
Labour regained control in the recent elections and leader Alan Rhodes has found the board in storage and pledged to replace it outside County Hall.
Mrs Cutts said the move was offensive but Mr Rhodes questioned her logic.
He said he was "determined" to put the information board back outside the council headquarters in West Bridgford.
The plaque which replaced it in 2009 commemorates all of Nottinghamshire's war dead.
Mr Rhodes said that plaque would remain in place.
Woolwich argument 'outrageous'
Mrs Cutts said she would be "very offended" by Labour's actions if she were the family of Drummer Lee Rigby, who was murdered on the streets of Woolwich last week.
Mr Rhodes said: "To use a terrible issue like that in an argument over something like this is outrageous.
"I don't know what to say to that. I don't understand the logic of that being brought into the argument."
Mrs Cutts, who led the council from 2009 until the elections earlier this month, said she could not understand why Labour wanted to "single out a few names" by putting the information board back on display.
"I have to say if I were the family of the young soldier that was killed on the streets of Woolwich recently I would be very offended by something like this," she said.
"I can't understand the thinking behind this but I do think it's offensive to everyone who lost their family and loved ones in Nottinghamshire.
"It always seems to me that the Labour party have to put forward their own particular point of view without thinking what damage or harm it might do to people."
After the information board was removed, Mr Rhodes pledged to replace it if Labour regained power.
He said he thought the board had been lost, but found it in storage at County Hall.